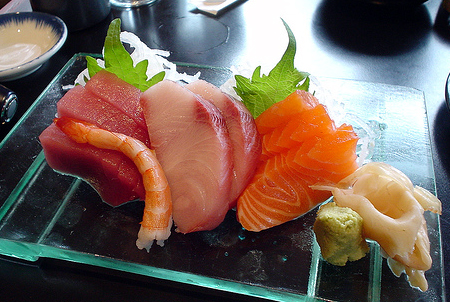 Sushi Bar Nippon is located on 532 4th Ave, San Diego, CA 92101 and only serves sushi. This precision focus makes it one of the best sushi bars in the Gas-lamp.
My wife and I  sat at the bar and asked the sushi chef for the fresh stuff. He recommended the halibut, Spanish mackerel (aji) and the toro. We ordered all of his reccomnedations  plus oshinko maki, natto maki, seafood salad and a few other things. We also ordered some unfiltered sake, which was served in the traditional sake box.
The halibut was exquisite – thinly sliced to near-transparent with a dab of chili sauce and ponzu sauce. Spanish mackerel was delicious as well. It has a tendency to be too-fishy fish for my liking but here at Nippon the flavor of the fish was just right and not too pungent.
The food and the service is top notch.  The ambiance of the restaurant makes you feel like you are in Japan. If a trip to Roppongi, Japan is too far then I recommend Sushi Bar Nippon.
Leave a Reply